Cold brewing is one of my favorite ways to enjoy tea during the summer months. It gives the brew a more mild, less bitter taste, especially if using green tea.  
The warm summer months provide us with beauty and bounty so enjoy the season with this delicate floral blend, especially designed to be cold brewed with items from your garden. 
Here is a simple DiY recipe for a a summer blend of Jasmine Green Tea Pearls and Roses. If the only ingredient you have is the green tea, try cold brewing it instead.
Jasmine tea is hand rolled into small pearls, then blended with unopened night blooming Jasmine flowers. Over the course of the evening, the flowers open and infuse the tea with their aroma. This process is often repeated several times, giving the tea its heady aroma.
How to cold brew:   Bring water to 176 F. That is quite a bit below boiling. (boiling is 212 F. and will create a bitter cup of Jasmine tea) Pour 1 oz water over 4-5 pearls or 1 Tbsp. tea leaves along with a handful of rose petals. wait a few seconds, then pour an additional  5-7 oz cold water, and cover.  I use a press pot but a mason jar works well too. Allow to steep in the refrigerator for 3-5 hours, or longer, according to your taste. The tea will be nearly clear in color but will have a delicate floral taste and a heavenly smell if you use the Jasmine Pearls.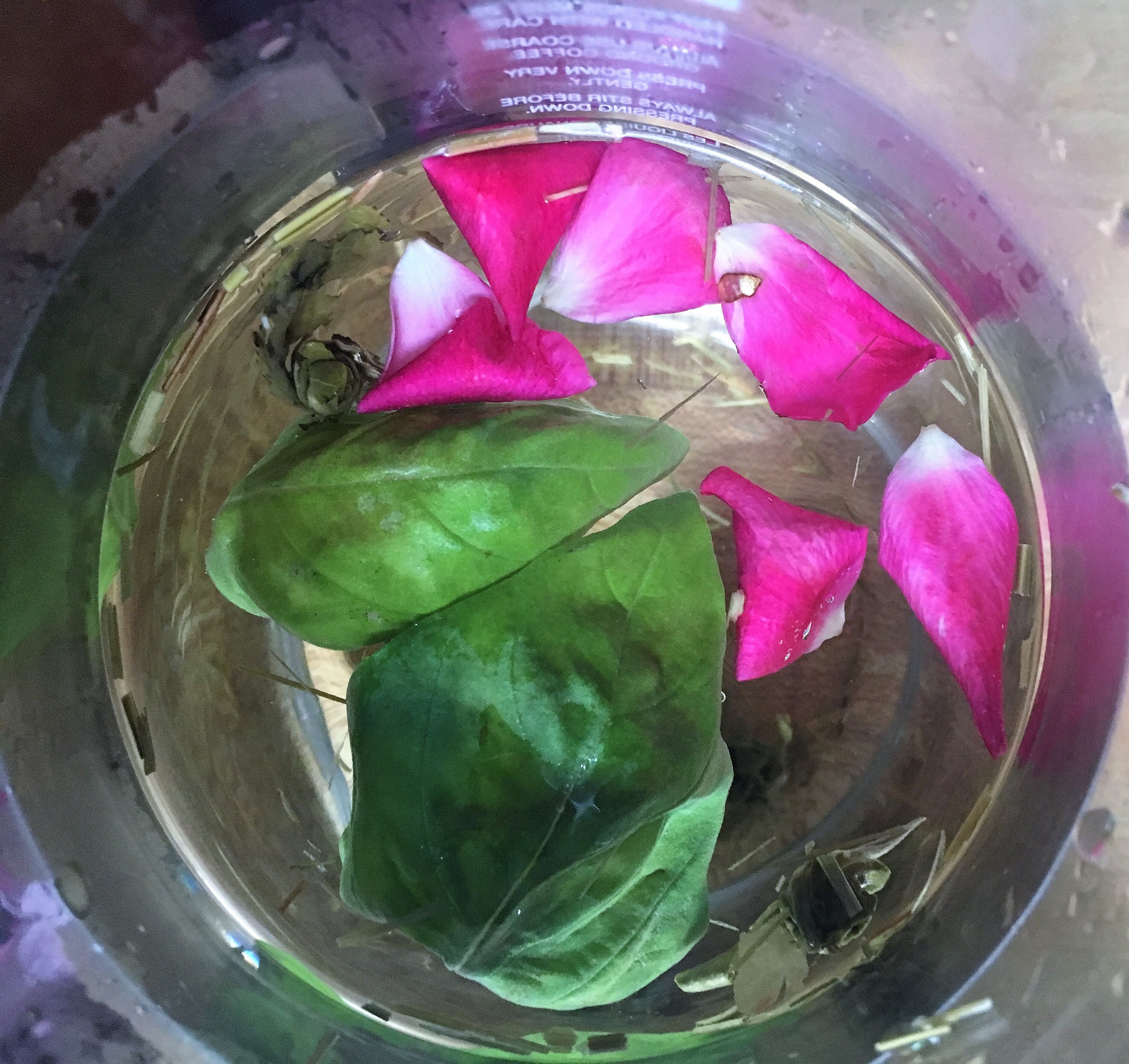 Cold Brew Jasmine Green Tea with Rose
-4-5 Green Tea Pearls or a 1 tspn Green Tea
-Rose Petals from the garden
You can also add your choice of: 
-A leaf or two of fresh or dried basil or mint
-Lemongrass or Lemon Balm 
Rose petals are very cooling, so they make a nice addition to green tea, and it allows me to take them from garden, to vase, to teacup.  I'll be offering Jasmine Green Tea Pearls in the shop soon, as sipping Jasmine is wonderful on cold autumn days.