I've gathered together a few items that inspire me for the month of January. An old clock that normally sits on a pile of books atop my dresser. Along with a strand of pearls they both represent New Years Eve. Old keys that symbolize locking and unlocking and a sparkly moon in honor of the upcoming Full Wolf Moon on January 1st and another full moon on January 31st creating a Blue Moon for the first month of 2018. 
In honor of this the moon magic guiding us into 2018 (there is also another Blue Moon in March) We have created a winter moon collection to assist in your rituals and to help harness the glowing glory of these winter moons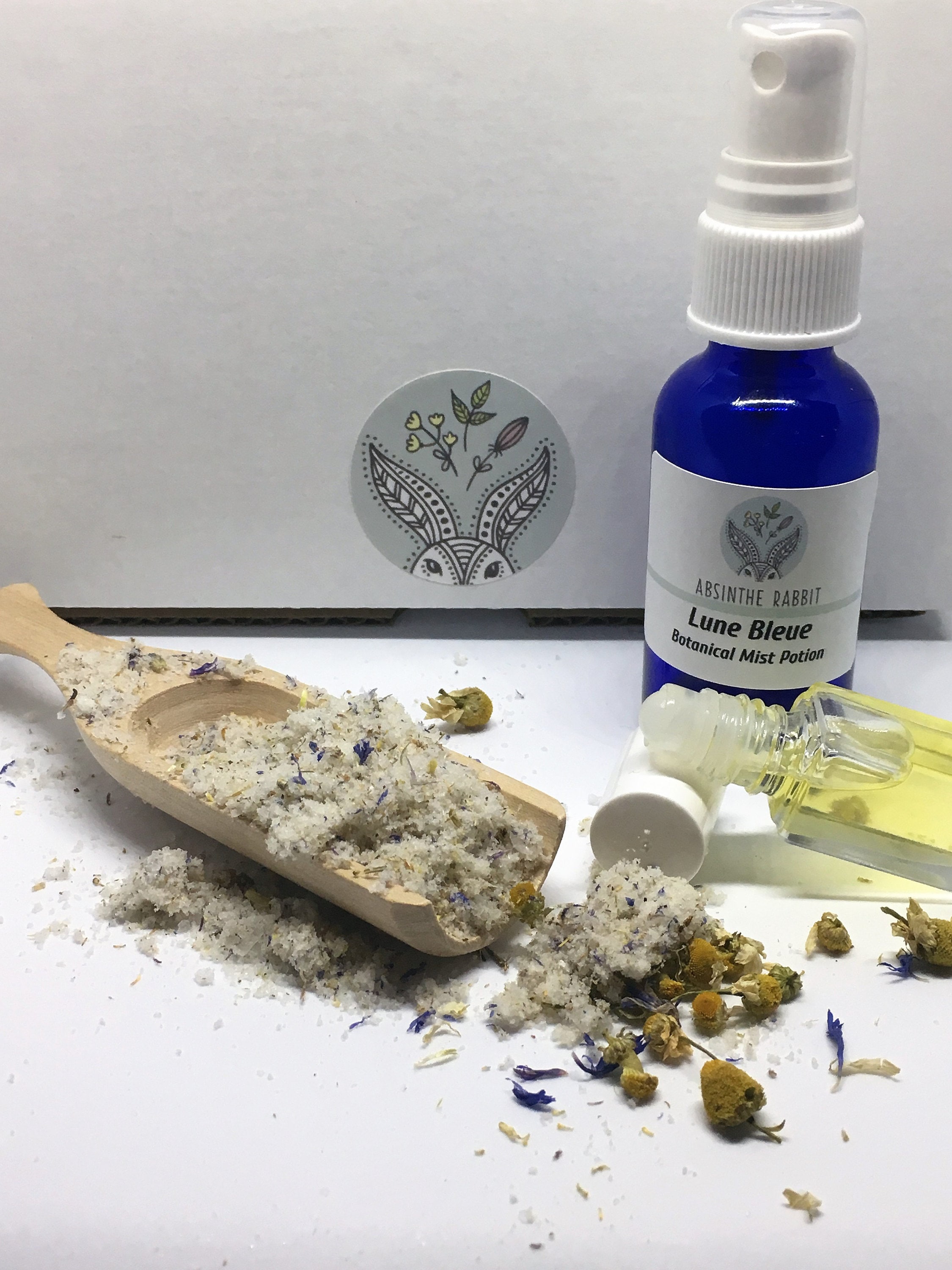 Lune Bleue - Botanical Misting Potion
Surround yourself with the glow of the moon with the scents of wood, citrus, fir and floral. Sandalwood for its ancientness, grounding and sensual properties. Citrus to uplift during the cold, darkness of winter. Siberian Fir to kill airborne germs and improve mental clarity. Rose, so the moon will think you are the moon. Mist on hair, sheets and around the room to keep you connected to the magic of the winter moon.
1 oz Cobalt blue glass bottle with sprayer
Lune Bleue - Anointing Oil Pull down the energy of the moon with this anointing oil. Jasmine for the romance of the moon, Bergamot for financial abundance and protection, and to add a winter citrus uplift. Ylang Ylang for drawing in peace. Roll on temples and pulse points anytime you wish to quiet an overactive mind and bring on a sense of euphoric connection to the lunar.
5ml roll on glass bottle
Lune Bleue - Winter Moon Soak This bath soak is inspired by the double moons of January and March. Create your own bath ritual for a warming winter bath in honor of the moon. Mineral rich sea salts are blended with Honey Powder and Coconut Milk Powder to soften and soothe sensitive skin. We've added Blue Corn flowers to enhance your 'quirky' creativity. Chamomile and Lavender flowers to  assist in relaxing the mind, body and spirit.  Essential oils of high-altitude French Lavender and Chamomile to assist with peace, emotional healing and rest.
4oz resealable bag enough for several baths