In Britain and North America it is believed to be good luck and an omen of money to say or repeat the word ''rabbit'' or "rabbits", or "white rabbits", or some combination of these elements, out loud upon waking on the first day of the month. 
I admit to being so excited about all things April and creating ways to give you many reasons to say the word Rabbit, not only on April 1st, but every day throughout April. 
The first offering is DreamAlice; a White Rabbit + Absinthe Rabbit offering. This upcoming Dream Alice workshop will be on April 1st near Chapel Hill, NC at the Joy of Movement studio Chatham Mills in Pittsboro. This will certainly up your opportunity to say the words ''rabbit, or white rabbit, or rabbits'' several times during the day. Especially while we explore the magic and wisdom of all things Alice, based on the wisdom of Alice in Wonderland of course. We will use art, music, movement, poetry and riddles. How else are we going to get things done? The results will most likely be profound. If you used to be much more muchier, and have lost your muchness, DreamAlice is the place to be. Click on the Alice Dreaming to find out more or email.
theabsintherabbit@gmail.com. or check out the events under
www.thejoyofmovementcm.com 
 Mention this blog and receive the early bird special, plus if you are traveling we can help with accommodations nearby the studio.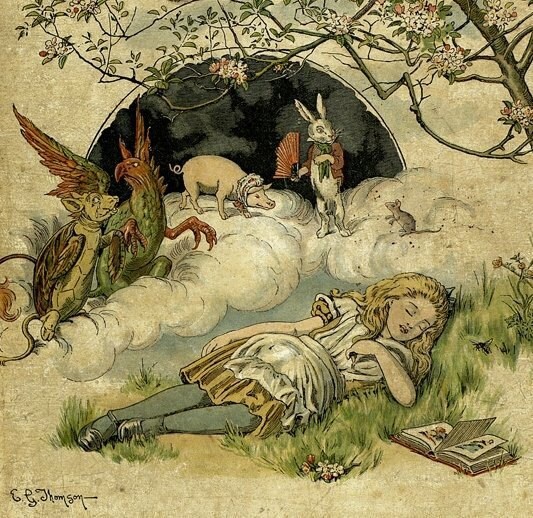 Absinthe Rabbit items will be available for purchase. To find out more about the day long adventure check out Joy of Movement Studio